The AutomationDirect Productivity2000 PLC system now has 50 discrete and analog I/O modules providing over 400 local I/O points. Using remote expansion, over 4,000 total I/O points are possible!
New DC discrete I/O modules include 8-, 16- and 32-point, 12-24 VDC, sink/source modules with additional isolated commons. Two for the 8- and 16-point modules and four isolated commons for the 32-point module.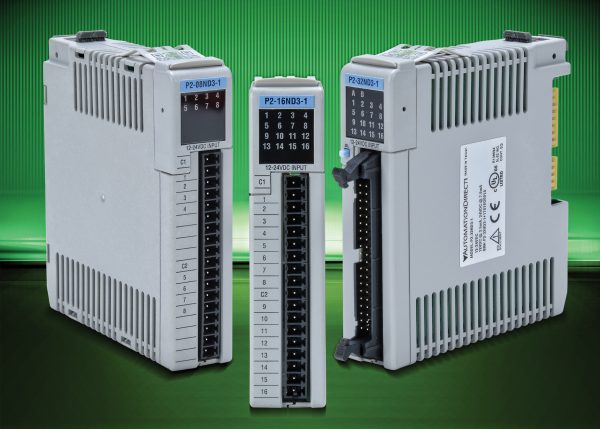 The Productivity2000 is a modular, rack-based system with a full lineup of discrete, analog and specialty I/O modules. The high-performance CPU has 50Mb memory, fast scan times and five communication ports. Two 10/100 Mbps Ethernet ports allow programming, expansion and client/server connections (Modbus TCP, Ethernet/IP scanner and adapters).
Free Productivity Suite programming software features tag name-based memory addressing and combined ladder logic with function block-style programming; advanced instructions that simplify complex tasks, and an exhaustive HELP file that covers both hardware and software topics.
To get you started with Productivity 2000 we offer two starter kits – with AC power supply and DC power supply.